Saturday, April 21, 2018
7 am - 1 pm at Cal Expo
Vendor Application forms are now available!

New for Vendors in 2018 -
HUGE Assigned/Reserved Spaces. Located in Lot 26, these spaces are 20' wide by 20' deep. $45 per space.
Unassigned Spaces will be located in Lot A. These spaces are approximately 10' wide by 18' deep. $35 per space.
Car Corral is now located in Lot A. $35 per space.
Pre-registration deadline is April 11th, 2018.
After April 11th, bring the application form with you and register at the gate.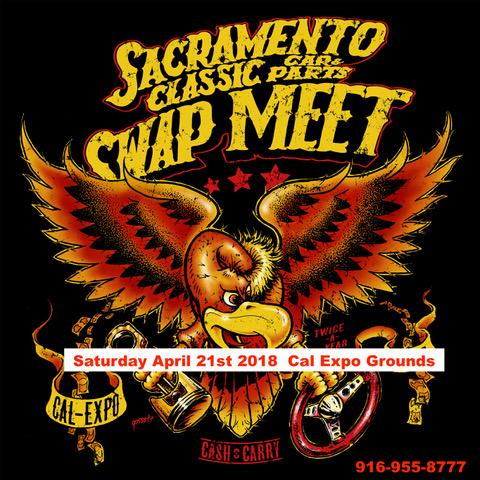 Gates open for the public at 7:00 am!
Parking is located in Lot C off of Exposition Blvd. We will have shuttle trollies running to bring you up to the entrance. The entrance to the Swap Meet is located at the main Cal Expo entrance by the Golden Bear and the huge C-A-L-I-F-O-R-N-I-A letters!
Get on the Mailing List
for April & September 2018
Click here to get on the mail list for upcoming Sacramento
Swap Meets and vendor registration.
Book Your
Rooms Today!
We've secured discounted rates
at two local hotels for Vendors and Spectators.
Be sure to ask for the Sacramento Swap Meet rate.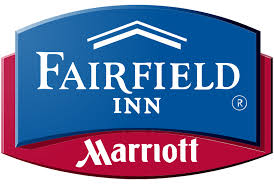 King $119 ♦ Queen $129
Fairfield Inn by Marriott
1780-1782 Tribute Road
Sacramento, CA
916-929-7900

Double Queen $89 ♦ King $109
Arden Star Hotel Sacramento Cal Expo
1413 Howe Avenue
Sacramento, CA
916-999-1233
---

---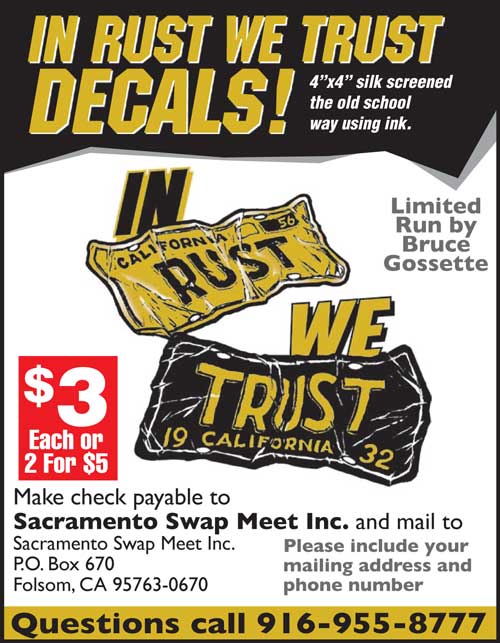 SPACE RENTAL
THIS IS A HUGE TRADITIONAL STYLE SWAP MEET WITH THOUSANDS OF SPACES!!
Vendor & Car Corral SPACES WILL BE AVAILABLE AT THE GATE ON SATURDAY. Nobody will be turned away as long as you arrive by 7:00 am to register!
Vendor and Car Corral spaces are available. Spaces are not assigned. Two (2) admission passes are included per vendor (NOT PER SPACE). Additional passes can be purchased at the Swap Meet Office.
Pre-registration is NOT required. Spaces will be available both on the early setup day and on the day of the event.
FIND THE SWAP MEET
The Sacramento Swap Meet, formerly the original Reno Swap Meet, is located at Cal Expo in Sacramento California.
Cal Expo
1600  Exposition Blvd
Sacramento, CA 95815
Vendors enter through Lot B off of Exposition Blvd.
Public parking is Located in Lot C off of Exposition Blvd.
This huge classic car and parts swap meet keeps getting bigger and better every year.  Be sure to check out the Car Corral where you just might find that dream machine you've been looking for.  Then, of course, there's the vendors! This is a gearhead's dream…lots of old car parts and accessories…it's like a scavenger hunt and you have your own list.
Whether you're a vendor or a spectator…this is one swap meet that you don't want to miss!
There are plenty of vendor spaces available!
The Sacramento Swap Meet at Cal Expo
1600 Exposition Blvd, Sacramento, CA 95815