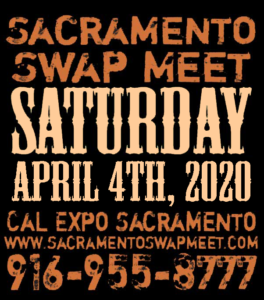 Next Up:
Date: Saturday, October 3, 2020
Time: 7:00 am - 1:00 pm
Location: Cal Expo Fairgrounds
---
Information Regarding Refunds for the Cancelled April 4, 2020 Swap Meet
All of the refunds for the cancelled swap meet on April 4, 2020 have been processed and mailed out.  Remember, not all of the applications had been processed when the swap meet was cancelled on March 13, 2020.  If you were due a refund, you should have already received it in the mail.  If you pre-registered and have not received a refund check, that means your check was never deposited and has now been shredded/destroyed.
The refund procedure was as follows:
For those who pre-registered and paid with a

money order

,

cashier's check

, or

cash

– you were issued and mailed a refund check.
For those who pre-registered and paid with a

check

:

If your check was deposited– you were issued and mailed a refund check.
If your check was NOT deposited – your check was physically shredded/destroyed.
The easiest way to determine if you should have received a refund check is to consult your bank statement to see if the check that you sent in was ever cashed or not.
If you have any questions regarding your refund or your shredded check, please call the Swap Meet line at 916-955-8777 and we can research your individual case.
---
Countdown to the October 3rd Sacramento Swap Meet: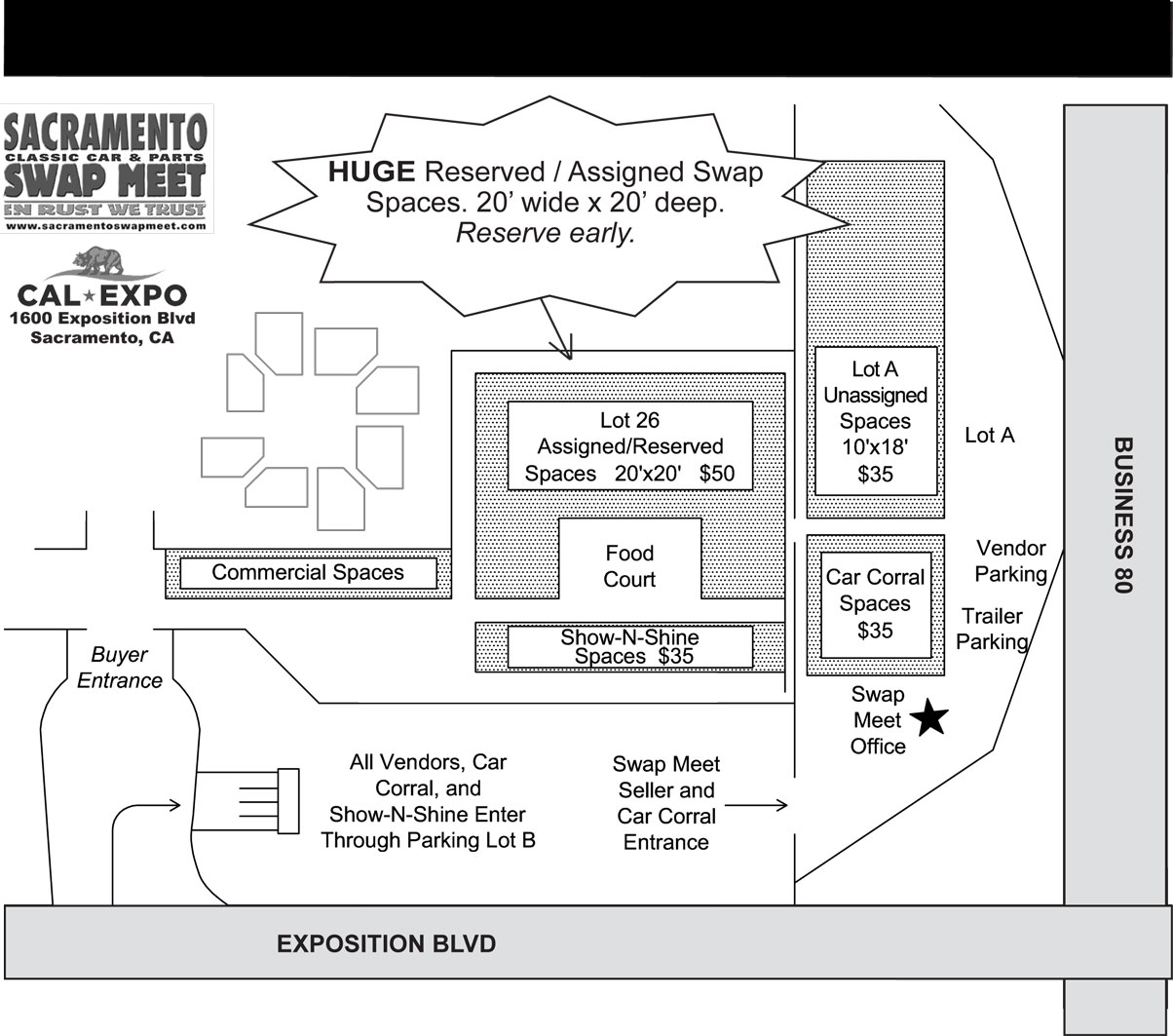 ---
See some great pictures from the swap meet.

---
Get On Our Mailing List
Get on the mail list to be notified of upcoming Sacramento Swap Meets and to receive vendor registration information when it becomes available.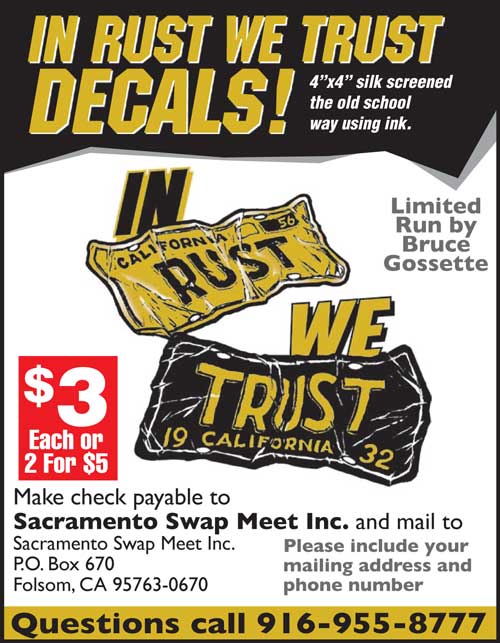 SPACE RENTAL
THIS IS A HUGE TRADITIONAL STYLE SWAP MEET WITH THOUSANDS OF SPACES!!
Vendor & Car Corral SPACES WILL BE AVAILABLE AT THE GATE ON SATURDAY. Nobody will be turned away as long as you arrive by 7:00 am to register!
Vendor and Car Corral spaces are available. Vendor spaces are available as both assigned and not assigned. Two (2) admission passes are included per vendor (NOT PER SPACE). Additional passes can be purchased at the Swap Meet Office.
Pre-registration is NOT required.
FIND THE SWAP MEET
The Sacramento Swap Meet, formerly the original Reno Swap Meet, is located at Cal Expo in Sacramento California.
Cal Expo
1600  Exposition Blvd
Sacramento, CA 95815
Vendors enter through Lot B off of Exposition Blvd.
Public parking is Located in Lot C off of Exposition Blvd.
The Sacramento Swap Meet at Cal Expo
1600 Exposition Blvd, Sacramento, CA 95815