Another Great Sacramento Swap Meet is in the Books.
THANK YOU to all of the Sellers and Buyers that participated!
Stay tuned for information on our 2020 Spring and Fall Swap Meets.
---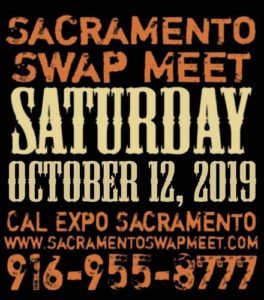 Date: Saturday, October 12, 2019
Time: 7:00 am - 1:00 pm
Location: Cal Expo Fairgrounds
Get Ready!
It all happens in: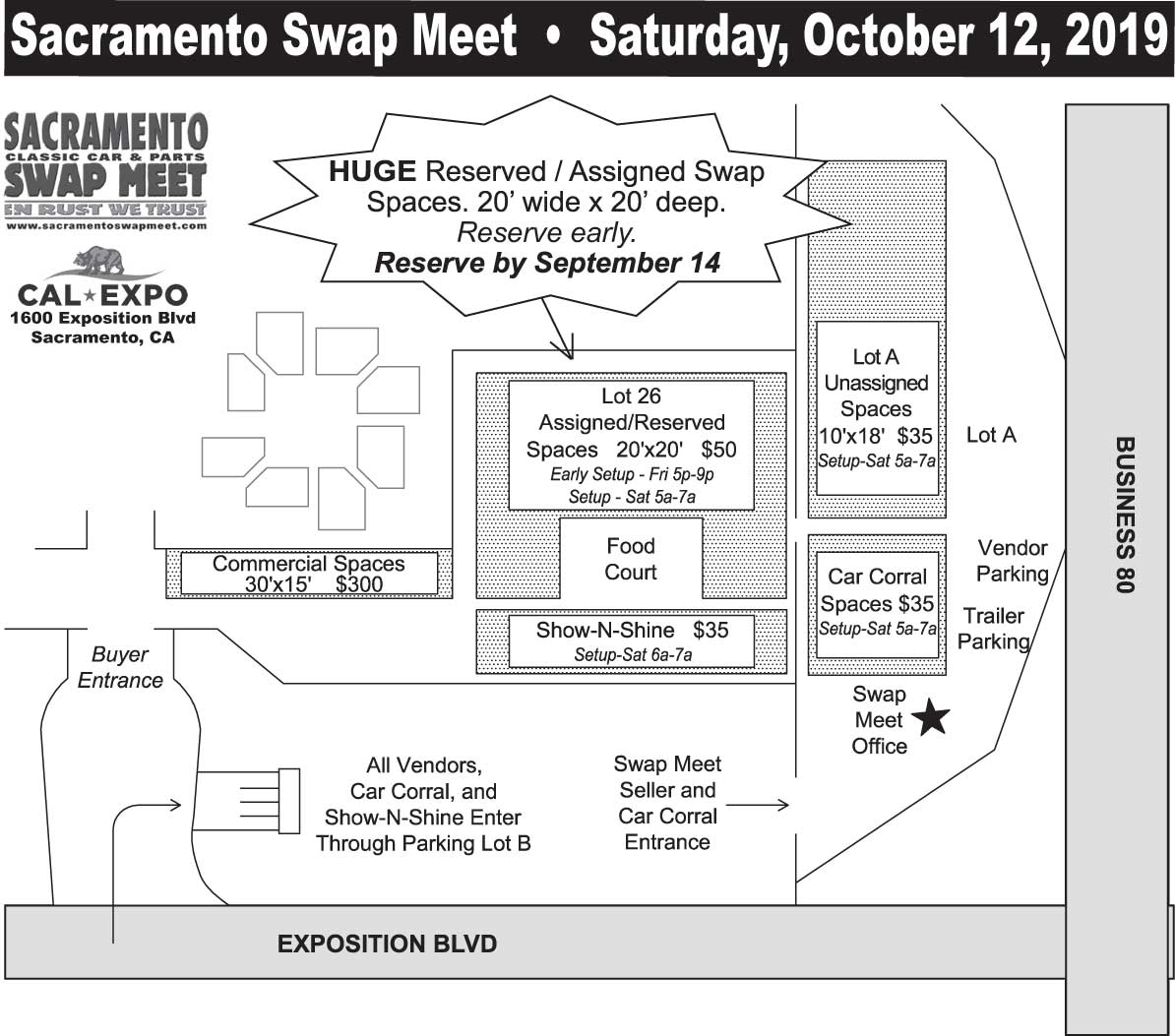 PARTICIPANT INFORMATION for SATURDAY, OCTOBER 12, 2019
SETUP
Saturday, October 12, 5am-7am
This is for All Participants
Note: Early Setup on Friday, October 11, 5pm-9pm is for LOT 26 Reserved Spaces ONLY.
SWAP MEET & SHOW-N-SHINE
Saturday, October 12, 7am-1pm
TEARDOWN
Saturday, October 12, 1pm-3pm
•No leaving before 1pm
•Must be out by 3pm
---
Participant Information
for October 12, 2019
Assigned / Reserved Swap Meet Spaces
HUGE space size - 20' wide by 20' deep
Located in Lot 26
$50 each space
Unassigned Swap Meet Spaces
Unassigned Spaces are approximately 10' wide by 18' deep
Located in Lot A
$35 each space
Car Corral Spaces
Located in Lot A
$35 each space
Commercial Spaces
Commercial Spaces are approximately 30' wide by 15' deep
Located just inside of Public Entrance
$300 each space
Show-N-Shine Car Show
$1,000 Cash Awards Up for Grabs! (People's Choice)
$35 each space
Note: Food vending is handled through Spectra. Contact Spectra at 916-920-1212.
---
See some great pictures from the swap meet.

---
Get On Our Mailing List
Get on the mail list to be notified of upcoming Sacramento Swap Meets and to receive vendor registration information when it becomes available.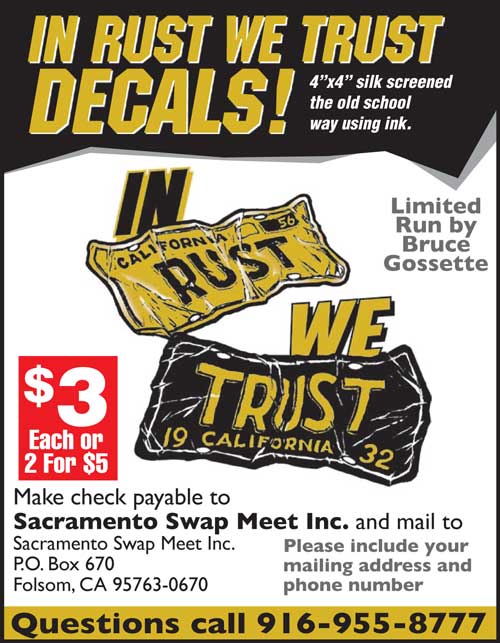 SPACE RENTAL
THIS IS A HUGE TRADITIONAL STYLE SWAP MEET WITH THOUSANDS OF SPACES!!
Vendor & Car Corral SPACES WILL BE AVAILABLE AT THE GATE ON SATURDAY. Nobody will be turned away as long as you arrive by 7:00 am to register!
Vendor and Car Corral spaces are available. Spaces are not assigned. Two (2) admission passes are included per vendor (NOT PER SPACE). Additional passes can be purchased at the Swap Meet Office.
Pre-registration is NOT required.
FIND THE SWAP MEET
The Sacramento Swap Meet, formerly the original Reno Swap Meet, is located at Cal Expo in Sacramento California.
Cal Expo
1600  Exposition Blvd
Sacramento, CA 95815
Vendors enter through Lot B off of Exposition Blvd.
Public parking is Located in Lot C off of Exposition Blvd.
The Sacramento Swap Meet at Cal Expo
1600 Exposition Blvd, Sacramento, CA 95815