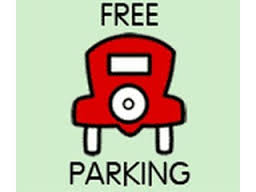 Heads Up!...
On July 30th there will be another event happening inside of the Sleep Train Arena while the Sacramento Swap Meet is being held outside. Swap Meet buyers will be sharing the general parking lot with the inside event. Parking for Swap Meet folks is FREE - while the inside event attendees must pay to park. So if you are parking in General Parking - be sure to tell the parking crew at the toll plaza entry booths that you are attending the Swap Meet and you will not be charged for parking! Please notify our swap meet staff if by chance you did pay to park and we will get it corrected.
Remember: We have free public parking set up for all swap meet attendees!
We also have set up a special Power Parking option for people bringing their classic hot rod or just want to park inside the swap meet grounds for $25! Power Parker's can enter thru the Vendor Gate located at the North end of Sports Parkway. For $25, you will receive TWO admission passes and a parking spot in a special lot located inside the swap meet grounds!

LIMITED NUMBER OF ASSIGNED SPACES FOR COMMERCIAL VENDORS AVAILABLE!
To qualify for assigned commercial vendor spaces you must purchase a minimum of four spaces @ $35 each, plus a $100 assigned space fee. This Includes a Special Load In Gate and early set up hours on Friday, July 29, 2016, 3pm-5pm. If interested, please call the Swap Meet Office to confirm the availability of reserved spaces before you submit your application!
Of course non-assigned Commercial Automotive Vendor (full time automotive businesses) spaces are also available.
Sign up today! 

Click Here for the Vendor Application Form!
SPACE RENTAL

Click Here for the Vendor Application Form!
THIS IS A HUGE TRADITIONAL STYLE SWAP MEET WITH OVER 11,000 SPACES!!
Vendor & Car Corral SPACES WILL BE AVAILABLE AT THE GATE ON SATURDAY. NOBODY WILL BE TURNED AWAY!
Vendor, Commercial, and Car Corral spaces are available. Spaces are not assigned. 2 admission passes are included per vendor (NOT PER SPACE). Additional passes can be purchased at the Swap Meet Office.
General Non-Automotive spaces are also available: These spaces are for anything non-automotive i.e., sunglasses, etc.
FIND THE SWAP MEET
The Sacramento Swap Meet, formerly the original Reno Swap Meet, is located at the Sleep Train Arena (the old ARCO Arena) in Sacramento, California.
Lodging Info:
HEADQUARTERS HOTEL - HAMPTON INN
3021 ADVANTAGE WAY, SACRAMENTO, CA 95834
916-928-5700
SPECIAL ROOM RATE $94
DOUBLE QUEEN BEDS & A HOT BREAKFAST.
ASK FOR THE SACRAMENTO SWAP MEET RATES
2016 Sacramento Swap Meet Dates: April 16 and July 30, 2016
The 2016 dates for the Sacramento Swap Meet are Saturday, April 16 and Saturday, July 30.
There are over 11,000 vendor spaces available.  We will again be offering a very limited number of PREMIUM ASSIGNED commercial vendors spaces. Check out the details on that here on the home page.
This huge classic car and parts swap meet keeps getting bigger and better every year.  Be sure to check out the Car Corral where you just might find that dream machine you've been looking for.  Then, of course, there's the vendors! This is a gearhead's dream…lots of old car parts and accessories…it's like a scavenger hunt and you have your own list.
Whether you're a vendor or a spectator…this is one swap meet that you don't want to miss!
Vendor pre-registration for the July 30th Swap Meet will open soon.  Pre-registration is not requires, you can still come in on the day of the show and register.  No one will be turned away.  Spaces (unless assigned) are on a first-come-first-served basis.
The Sacramento Swap Meet at Sleep Train Arena
1 Sports Pkwy, Sacramento, CA 95834